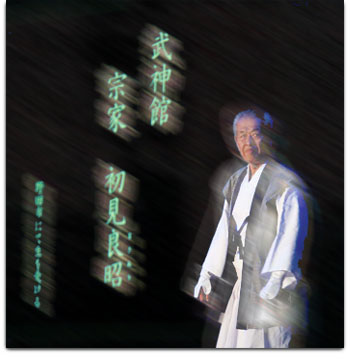 Bujinkan Shima Dojo Instructors
Ed Martin- 15th Dan (degree black belt). Ed studied under Ninjutsu Grandmaster Dr. Masaaki Hatsumi , the worlds foremost expert in Ninjutsu and the first Grandmaster to allow non-Japanese students to be trained in Ninjutsu. Ed Martin oversees Shima Dojo under the direction of Doug Tweedy.
Doug Tweedy - Godan - At age 10, after reading an Andrew Adams book about the ninja, Doug knew his life-long goal was to train in martial arts, specifically in the art as taught by Dr. Masaaki Hatsumi. Two years later, unable to find a legitimate instructor in Ninjutsu, he signed up for a Taekwon-Do class. He trained in TKD for more than 20 years, achieving the rank of 3rd degree black belt. He often taught for his instructor and also operated his own TKD dojo for more than 10 years.

Finally at the age of 34 he began his life long dream of training in the art of Bujinkan Budo Taijutsu. Doug and his wife Michelle began this journey together in 1999, when they began Bujinkan training in North Carolina. In 2002, they became students of Ed "Papa-san" Martin (Jugodan Shihan from PA) and Thom Humphreys (Godan Shidoshi from TX).

After running a training group (shibu) for several years, Doug and Michelle opened a dojo in Richmond, Virginia after being issued an assistant teaching license (shidoshi-ho) in 2004. Doug is a current member of the Bujinkan Shidoshi-kai organization. From these events were born the Bujinkan Shima Dojo.

Doug and Michelle regularly travel to train with many Shidoshi and Shihan in the Bujinkan both in the USA and Japan throughout the year to bring the most current up-to-date information to the students of Shima Dojo. Also, at various times during the year, Shima Dojo hosts instructors for workshops and seminars.

Doug is currently ranked as Godan in the Bujinkan and resides in Richmond, Virginia. 2008 marks 31 years he has dedicated to training in martial arts.