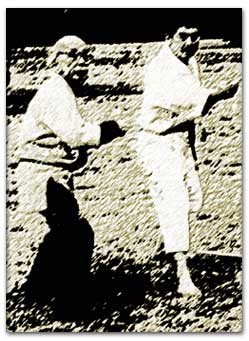 The Bujinkan (Warrior Spirit Training Hall or House of the Divine Warrior), or more properly the Bujinkan Dōjō ( 武神館道場, Bujinkan Dōjō) is a martial arts organization.It is headed and operated by Sōke Masaaki Hatsumi ( 初見良昭 Hatsumi Masaaki), who learned from Toshitsugu Takamatsu ( 高松寿嗣 Takamatsu Toshitsugu).
Toshitsugu Takamatsu is considered to be the "last combat ninja". His family had both samurai class and ninja roots. Toshitsugu Takamatsu studied under various masters of several ryu, and as a result, became the "only man ever to master all aspects of ninjutsu". When he was still a young man, Takamatsu gained his notoriety by single-handedly stopping a small riot. When he was older, he was involved in espionage in Manchuria and, according to Soke Masaaki Hatsumi, was in connection with Motojiro Akashi. Returning from China, he became a Tendai-shū abbot at Mount Hiei.
Takamatsu passed on his knowledge and legacy to Soke Masaaki Hatsumi, who founded the Bujinkan to continue Takamatsu's teachings.
The Bujinkan Dōjō method is named Bujinkan Budō Taijutsu ( 武神館武道体術), and is a collection of nine martial arts family lineages, called ryūha.
Nine ryūha lineages of Bujinkan Budō Taijutsu:
Gyokko-ryū Kosshijutsu ( 玉虎流骨指術)

Kotō-ryū Koppōjutsu ( 虎倒流骨法術)

Shinden Fudō-ryū Dakentaijutsu ( 神伝不動流打拳体術)

Takagi Yōshin-ryū Jūtaijutsu ( 高木揚心流柔体術)

Kuki Shinden-ryū Happō Bikenjutsu ( 九鬼神伝流八法秘剣術)

Gikan-ryū Koppōjutsu ( 義鑑流骨法術)

Togakure-ryū Ninpō ( 戸隠流忍法)

Gyokushin-ryū Ninpō ( 玉心流忍法)

Kumogakure-ryū Ninpō ( 雲隠流忍法)
The Bujinkan hombu dōjō is in Noda just outside Tokyo.